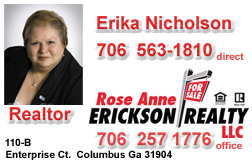 Welcome, to "the resource" for all Columbus Georgia Homes and Real Estate information and services in the area. We hope you enjoy your visit and explore everything this realty website has to offer, including; Columbus Ga Homes, Columbus Ga Real Estate, Fort Benning Real Estate, Phenix City Realtors, real estate listings, information for homebuyers and sellers.

If you're planning to sell your Columbus Georgia home or Phenix City home in the next few months, nothing is more important than knowing the right asking price. Please accept my offer, to help you with a Free Market Analysis. We will use comparable sold listings (Columbus Ga Homes, Fort Benning Real Estate, or Phenix City Real Estate,) to help you determine the accurate market value of your home. We can sell your home fast!

Likewise, we buy houses in any condition in the midwestern states such as Minnesota as well. Therefore, if you want to sell your house fast for cash and leave the repairs behind, we can help you with that. We have affiliates on both coasts, the midwest and here in the south. After visiting your home, we will make a cash offer and are able to close in as few as fourteen days!